Shop
This page still under construction.
Fabric Mandalas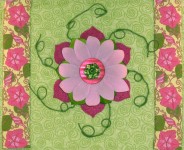 The mandalas are each unique and vary in size.  Some come framed; others do not.  You'll find details under description of each piece currently available.  Shipping will depend on piece purchased.  Please contact me with any questions or if you're interested in custom-designed pieces.  Enjoy shopping!
Note Cards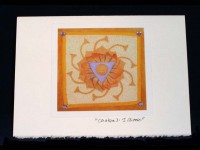 The note cards are photographs of the original mandalas, some with an added background of colored art paper. Each card is on high-quality acid-free white deckle stationery with matching envelope and are blank inside. Size is approximately 5″ x 7″. Enjoy shopping!
VERY COOL designs — the "green tara" on Sue's piano is quite the conversation piece for her clients, and always an eyecatcher when you walk in the room….not to mention the love and healing energy that went into the creation. I love the notecards!